Step 1. Click the download link to the file sent to you in the e-mail with your android phone.
Step2. You will get an "Install Blocked" Message.  Click on the Settings Button.
Step 3. Check the box to the right of "Unknown Sources"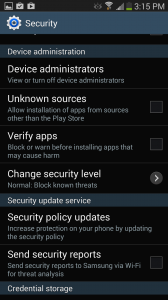 Step 4.  The App should now auto install.  You can access the App as you would any normal App.
Note:  The default distance is not far.  Some phones will be able to use the nav menu on the top right to adjust the range of the community when they are creating the community.
You should make all communitys Public to start.  Private and protected still have issues.
Expect the App to crash here and there.  It's a work in progress.